Barisons String Quartets
Members of Barisons String Quartet prides themselves on choosing primarily traditional string quartets repertoire to suit the occasion be it for weddings, private and corporate events or concert recitals.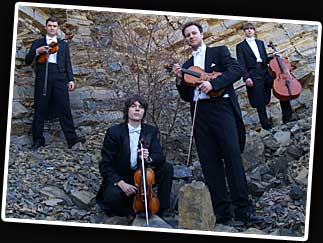 Elegantly presented Barisons String Quartet perform a large selection of famous classical and romantic repertoire, and may include a change of style for a slightly more light hearted event when jazzier arrangements of popular songs or show tunes are required.

As you would expect Barisons String Quartet consists of professional musicians who perform with great vitality, to provide a delightful musical experience for you and your guests.

In the case of wedding hire, the quartet can perform both prior to and during the ceremony, as well as performing background music setting an elegant classical scene for your reception drinks and meal.

If you have any repertoire requirements that you would like the quartet to perform, then we can arrange anything.

Barisons String Quartet consists of the some of the finest young string players in Europe whom are at home playing traditions repertoire, to accompanying choirs worldwide.

Barisons String Quartet has performed at high profile events all over the Europe, from society weddings to accompanying mass at St. Paul's Cathedral, Venice.

They are available for weddings & corporate events all over Europe.

For those looking for the highest quality in string quartets look no further than Barisons to delight your guests with their captivating performance style and charisma.