Barisons Divas & Tenors
Barisons Singing Tenors & Divas deliver the best of Opera, 'Rat Pack' and Dance, dazzling audiences with unique, unforgettable and stunning performances.
Whether disguised as three singing waiters, guests, firemen or other characters', their beautiful harmonious singing, breathtaking dancing, charisma and visual appeal prove that Barisons Singing Tenors & Divas are world-class, one of a kind and perfect for any event.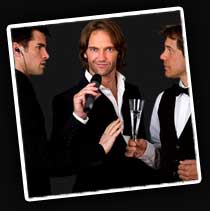 Tenors
Guaranteed to dazzle your guests and transform your event, Tenors is a successfully proven Act that involves three dynamic, young and talented, professionally trained male performers who masquerade as guests, security or catering staff and/or chefs. During the course of the evening they stylishly reveal their operatic and musical theatre vocal talents to an unsuspecting audience culminating in a stunning and memorable finale, a la 'The Three Tenors'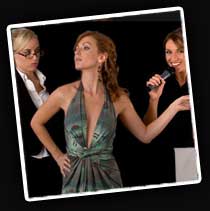 Divas
Divas is the original female concept in the entertainment industry and involves three sassy and classically trained female performers who are also 'incognito' at each event... like the Tenors they can masquerade as whatever is relevant to the particular occasion. During the function they reveal their operatic and contemporary vocal talents, presenting an arrangement of anthemic 'diva' numbers to an unsuspecting and admiring audience, culminating in a show-stopping finish.
Tenors & Divas
Tenors & Divas mixes the best of these two shows for a totally unique and unforgettable experience. Melding the timeless elegance and class of opera with the fun and relaxed approach of musicals and popular music, Tenors & Divas Incognito is an unbeatable combination. Beautiful harmonious singing, charisma and visual appeal proves this Act is world-class and one of a kind.
Swing
The evening revolves around a femme fatale nightclub singer (Samantha…Sammy Davis) and her two accomplices Dean and Frank. The show is a stunning mix of popular swing hits, big band classics and the best of the Rat Pack. The Act's climax is a sensational and moving rendition of the immortal 'My Way' which, in true Tenors & Divas style, guarantees to leave you wanting more!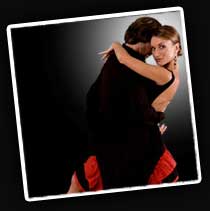 Dancers
Dancers is a truly unique and brilliantly choreographed performance for parties. Under the guise of a professional dancer a few simple dance moves are demonstrated to the audience with the help of a 'volunteer'. A passionate Flamenco solo, followed by a tap routine to rival Fred Astaire, and a Ricky Martin salsa leads into a feast of dance fever. This culminates in a mega-mix of dance and party hits from the 60s, 70s and 80s that will have the audience up on their feet strutting their stuff.
View our sample videos

Corporate Show reel

Swing

Divas Show reel

Montage