A Hard Day's Night
Our Beatles tribute delivers high-energy Rock & Roll music in true Beatles Style. If you are looking for a professional, high-quality Beatles show - then look no further!

A Hard Day's Night - Beatles tribute - video showreel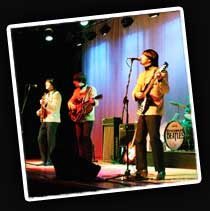 The Beatles are one of the most commercially successful and critically acclaimed bands in the history of popular music, selling over one billion records internationally.

At the time the world had never seen anything like it, nor heard any noise to approximate the ceaseless, frantic, hysterical scream which met the Beatles when they took the stage.
A Hard Day's Night is the one of the UK's finest Beatles tribute shows, which has a worldwide reputation.

The show recreates the on-stage persona accurately, capturing the music, vocals, harmonies, energy and look of the original Fab Four.
Their performance is completely live creating a totally authentic sound and capturing the atmosphere and excitement from those early Beatles years!

From the early days in the Cavern, to the record-breaking Shea Stadium Concert, they will transport any audience back to the "Swinging Sixties" - creating the ultimate feel-good factor.

The cast of A Hard Day's Night have performed all over the world including Singapore, Taiwan, China, Portugal, Middle East, Egypt, Pakistan, Cyprus & Libya, UK and Europe.

All this experience coupled with the famous Beatles humour, harmonies, "mop top" hair styles, authentic period costumes and vintage instruments, makes A Hard Day's Night ideal for any Event.